I had a large plant sale this past May. I literally spent the months of April and May dividing and potting up plants from my gardens, plus potting up plant donations from friends. I potted up 3,500 plants, chewing through 2 yards of dirt my husband hauled in for me! The weekend of the sale, the weather was cold and rainy. I had so many plants left that I needed to continue the sale for 11 more days. The response was amazing, but the $20,000 goal has not yet been reached. While continuing my efforts to reach this goal, I am also looking towards the future and would like to know if you would be interested in sponsoring or helping sponsor a child at Bethany Pre and Primary School. There are children who come from poor families, but are so very eager to learn. I will always have close ties with this school, and you will be kept updated on the children we sponsor.
Please consider this mission. It takes a village to raise a child and we can do it!!!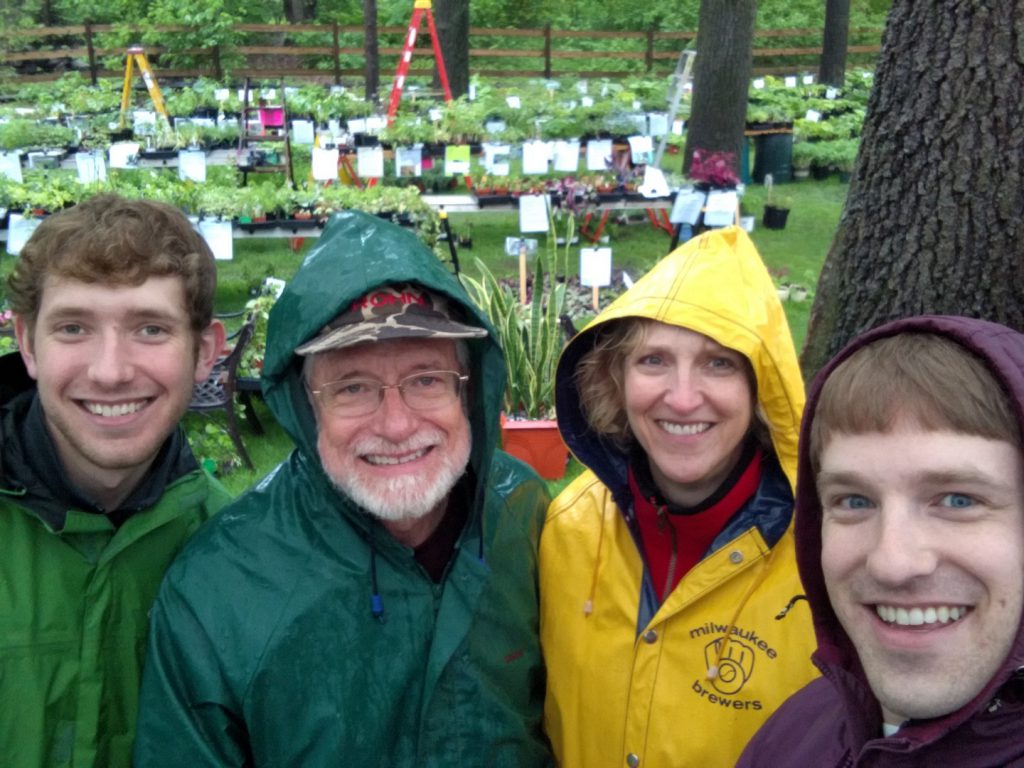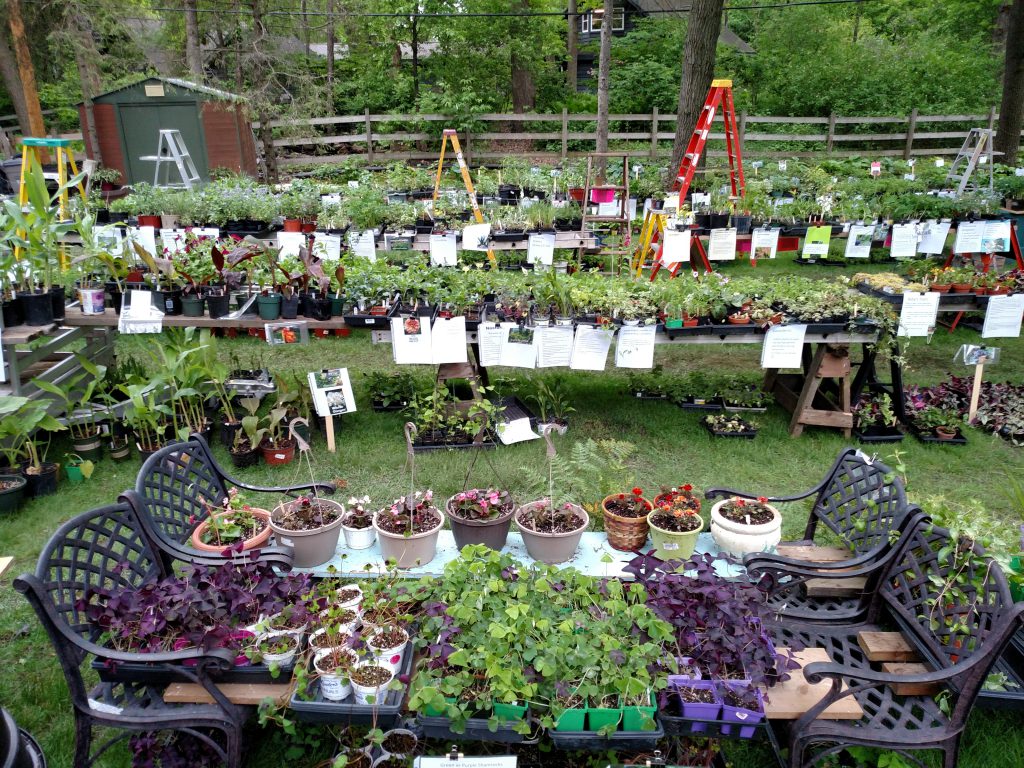 The sale was supposed to be only three day,  May 19th-21st, but due to a rainy and cold weekend, the sale continued on for 14 days total.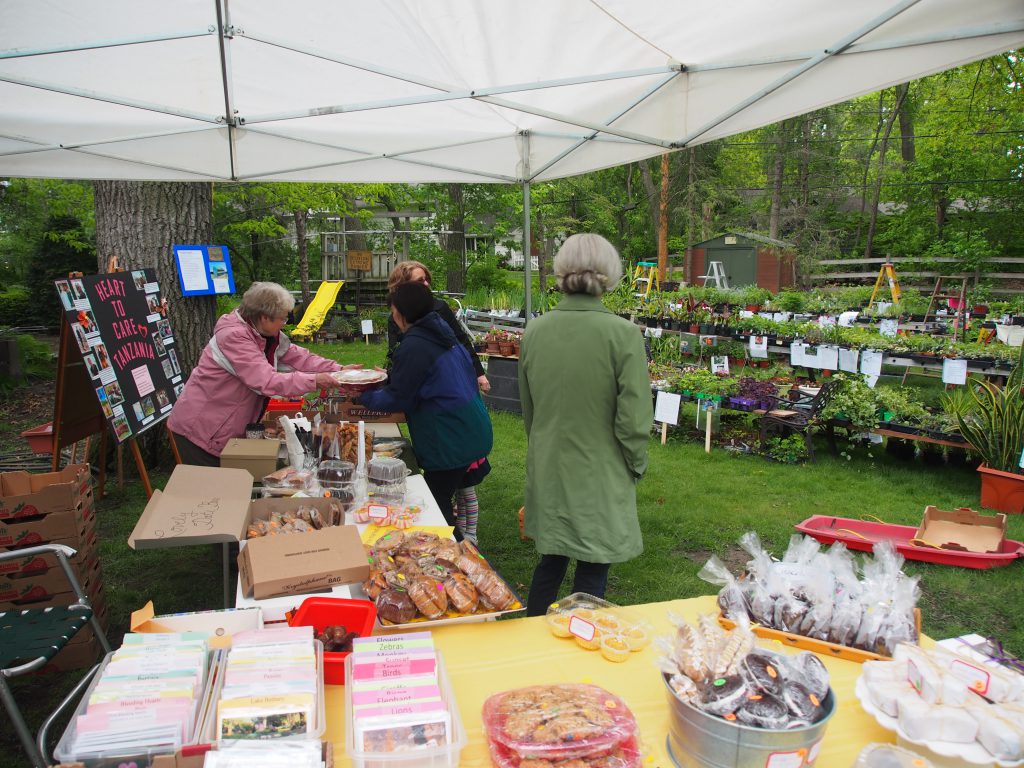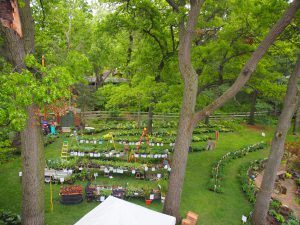 The plants were neatly organized and set up with the help of my husband, Paul.  He also was busy during the sale days pumping water out of our flooded yard.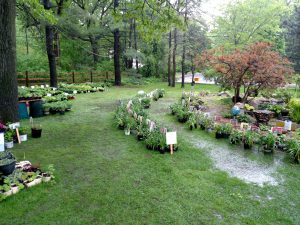 It was a success, but our goal has not yet been reached. Please consider supporting this worthy cause!
I have collected 3,584 pots again, and plan to have another plant sale next spring, 2018. Now I just need plant donations!!!!  Thanks again for the support!
"""""""""""""""""""""""""""""""""""""""""""""""""""""""""""""""""""""""
Another fundraiser, a Heart To Care Tanzania benefit concert took place July 27th. It was graciously spearheaded by Robert Ragoonanan, and featured many talented young musicians. 
The Roseville Review, our local paper wrote a nice article about the concert and the charity. We raised $985 dollars.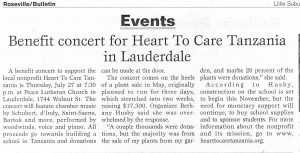 """"""""""""""""""""""""""""""""""""""""""""""""""""""""""""""""""""""`
I was just visiting my home church this past weekend, August 7, 2017. I gave this speech after the service. It was a bit abbreviated than this speech below, but this speech will tell the ENTIRE story of how God know's what we need.
It is titled, "He knows what we need and works in mysterious ways."
Hello,
I want to share an amazing story with you. I'm building a school in Tanzania, along with 3 others, Emanuel, 

Ojwang

 and Arlene, who live in Tanzania. Growing up in the church we sometimes had missionaries visit us from Africa. Their hearts and smiles always seemed so big.  They seemed enthusiastic about their Christian faith, and from my visit this past January to Tanzania, I can see they are the same wonderful people that I remembered from my childhood.
I would say my determination to build this school is similar to my Dad's mission in Russia when he and others helped rekindle the Lutheran church in Kazakhstan, when the Soviet Union collapsed. My Dad spent countless hours on his Kazakhstan missionary work. So like my Dad, when we see a valuable mission, we just have to step in and help.
Before I tell you more specifics on the K-7 primary school, that is being built in the village of Kisongo, I want to tell you how this all started.
My sister in law, Jean, took us on a family safari trip to Tanzania this past January. It was a tourist trip, not a mission trip. But you could say it ended up being a mission trip for me.  This school mission is something that God has called me to do. I said no initially to it, but God kept prodding me until I said yes.. Pieces have been fitting together every step of the way.
After our day safari on January 7th of this year, I met a 25 year old man named Emanuel working in the gift shop at one of the lodges that we were staying at. My purpose in visiting the gift shop was to buy a stamp for a postcard to send home to my Dad.  We talked for nearly 45 minutes. I found out that Emanuel is one of six children, he is partially through his safari guide training, and at the gift shop he makes $100 a month/plus tips. In our nearly hour visit he told me "if God willing, I will be able to complete my training, and "with God all things are possible." I could tell he was a Christian young man, and he had faith that his dream to become a safari guide would come true someday. I asked him how much his safari guide training cost per year, and he said $500.
During our conversation, I found out it was his birthday the next day. I gave him a $20 bill as a birthday present. He was so thankful and repeatedly said, "you really want to give this to me?" I had the Bible verse from Matthew 25:40 enter into my head which says,"Whatever you do to the least of my brothers or sisters you do to me".  And YES, I wanted to give him this money.  But when he said, "this will help my family so much," I was thinking, "shouldn't you save this money for your safari guide training?" I wanted him to finish his schooling, and it was on that day that I entertained the idea of sponsoring his education, or at least part of it.
I also noticed his teeth during our conversation. There were brown spots on his teeth and some yellowing. And he covered his mouth when talking. And he would not smile with his teeth showing for our picture together.
When we got home, I decided I was going to go ahead with my idea of sponsoring his education. I had him checked out by our tour guide, just to make sure I wasn't being taken for a fool. People had cast doubts in my mind that his story of being poor was perhaps not true.  But yes, he and his story checked out 100% true. He is a hard working kid from a poor family.
So I emailed him to tell him I was going to send him back to school. He was so excited. He called home and his parents were equally excited for about a minute…. and then they said, "but who will support your two brothers."  I soon discovered why he was so grateful for the $20 tip. He sends the majority of money he makes home to his family to pay for his 20 and 27 year old brother's educations.  He could not accept my offer.
Since I could not help Emanuel, Emanuel asked me if I could help his dad with his youngest brother's education. His dad had not yet finished his brother Daudi's 3rd grade bill, and now his brother was in 4th grade. My gut reaction was to not help his dad. I thought his dad should pay his own bills.  I wanted to help Emanuel, but then I thought, if I help his dad and brother, it is like helping Emanuel. So I said yes. And as the story unfolds, his little brother's school master, Sangeti, or school principal here in the US, is going be instrumental in making this school come to be. Sangetibuilt his own school 7 years ago, and knows what is needed to build a school.
So back to Emanuel. I still wanted to help him with his education. I knew he couldn't leave the lodge, as he works 7 days a week and closes the gift shop at 7 p.m . From our talks, I knew he wanted to learn Spanish so he could be more versatile as a safari guide someday. So I bought him the computer Rosetta Stone Spanish program.
I soon realized that the program would not run on his phone, so I had to buy him a computer. Luckily my 

son
​,
​ J
oe, can fix computers remotely! So Emanuel's computer is kept in top condition.
 Finally I asked Emanuel about this teeth, as I noticed on Facebook that he would not smile with his mouth open. I had bad teeth growing up. I was called a yellow tooth pig, and knew exactly how he felt about his teeth and smile.
I googled dentists in Arusha. I found the ​Devine​g​race dental office, and there I found a Philippine dentist named Arlene. She is a Christian young women who wants to help people in Tanzania. We exchanged countless emails of how to proceed with his teeth.  He had never been to a dentist. He finally had the dental work done consisting of a root canal, 2 crowns, and 6 veneers. He smiles like crazy now, and there is no need for him to cover his mouth with his hands ever again.
 In more conversations with Emanuel, he told me of his brother in law, Ojwang, a man with a big heart, who has a large piece of land, and has always had a dream to build a school on the land. At first I told Emanuel, "that's great, but I'm not the bank of Tanzania." I had already helped him with this teeth and computer. Emanuel did not ask me again to help. But in the countless hours at the dental clinic, Emanuel told his dentist, Arlene, about Ojwang's dream. Emanuel told me she was interested in helping. "Okay," I thought, if Arlene is in, then God must want me in too.This was going to be a bigger mission, but with God, all things are possible.
Plans are well underway to start the school in 
Kisongo
, which is small village outside the larger city of 
Arusha
, in northern Tanzania. It ultimately will consist of 3-4 buildings on the school grounds, and the first building will cost $19,000 USD.
Once I decided this was a mission I was going to take on, I wanted to start raising money for the school.
I had a huge plant sale in my backyard this past May. I potted up over 3,500 pots by myself.  We raised $17,300 over 14 days. That amount totally blew me away. Before the sale started, Emanuel asked me how much money he thought I'd make. I said 6K. He said he'd keep praying that the sale would go well, and I've have a lot of customers. I personally prayed for ninja powers to accomplish this sale. The weather the weekend of the sale was awful. But God was there every step of the way. I remember coming in out of the rain on the first Sunday of my sale. I was in tears. I was so down about the awful weather. But then I went back outside, and was greeted by a friend who was dropping off a $200 donation check. I remember thinking to myself, "Lord, you know what I need, and when I need it. Thank you!" There were so many God moments during the sale. While planting up the pots, I was nearly out of pots many times, but just like manna from heaven, the good Lord provided pots. More pots than I ultimately even needed.
Like I said, the sale ended up lasting 2 weeks. Probably a couple thousand dollars were donations, but overall it was the sale of my plants, which are truly garden gifts from God.
In efforts to continue fundraising for the school, I just had a music concert at a church, and raised $985. I gave a talk, which was very scary for me, but with God's help, I will slowly improve my speech giving skills.
 So we have the money secured for the first building of the school, but we need 2-3 more buildings, plus money to pay the teachers initially, and supplement students who's families, like Emanuel's, can'thand though, and this will be a project for life.
That means I'll be having another plant sale next Mother's Day. I have already rounded up 4,000 pots again, more manna from heaven, and I continue to accept money and plant donations.  We are a non-profit organization, www.HeartToCareTanzania.org. I have a super cool website that my oldest son made for me, and I plan to visit my school next year. The school will be named after me, Bethany Pre and Primary School. It wasn't my idea. Emanuel insisted on it. But it could have been so much worse. Emanuel wanted to name the school St. Bethany Primary School. No!!!!.. I'm not a saint and I'm dead yet.
I am in frequent communication with Emanuel. He is like a 4th son to me. He is doing an excellent job keeping the ball rolling with the building of the school.
This wasn't a mission I asked for, but God has put it in my lap. The school will provide an education to these children in the village who don't have a school nearby. All subjects will all be taught and tested in English, which is a major benefit to the future education of these children.
My motto is, it takes a village to raise a child, and all children deserve a quality education. This school will not be a parochial school, but I plan to encourage them to make available a weekly after school religious program, if possible. Emanuel was raised in a Lutheran family, and they attend church frequently. Two of his brothers participate in the music at their church, singing and playing guitar.  Their worship services are held outdoors under a roof with a dirt floor. The service goes on for a couple hours. He has sent me videos of the service, and the energy and enthusiasm in their church is amazing.
I also plan to visit him a year from this September. I will take over lots and lots of school supplies, and whatever else is needed.
 So that is story about how this school came to be. Take one of my cards with the website and contact information, and please look at our website.
Thank you for letting me tell my story. God works in mysterious ways. I see His hand in things everyday. The pieces of this puzzle have been fitting together perfectly, starting with Jean graciously taking us to Tanzania, and then me needing to buy a stamp for my Dad's postcard, and then meeting a young man and family who needed help. And here we are today. Each and every day is a blessing from our Lord and Savior, Jesus Christ!​
Thank you for your time.
    ~Bethany~ fully cover the school cost. But someday, the school should be fairly self sustaining. It will always need a helping