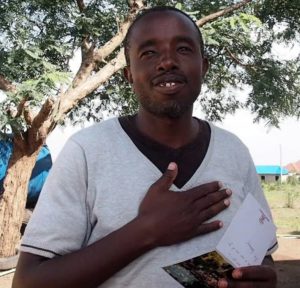 Ojung'u Samwel Mollel, age 42, our school's founding father, passed away September 13, 2020 after fighting a 6-month battle with acute leukemia. Just six hours before his death, he told his doctor, "God bless you, go home, take care of your family. I am cleansed and will go home tomorrow." He will be remembered as a humble, kind, and wise man. He will be greatly missed by his wife, 5 children, and all his family and friends.
For years Ojung'u dreamed of building a school on his farmland where children could receive a quality education and have a better chance at life. Because of your support for Heart To Care Tanzania, Ojung'u's dream became a reality. To honor him – and – keep his dream alive, we have established the Ojung'u Memorial Scholarship Fund. Each January, at the start of the new school year, we will give $200 scholarships to children who need assistance. Over the years, the gifts from this memorial will provide many children a bright future.
Below are the 15 recipients of the Ojung'u 2021 Memorial Scholarship Fund!
---
The parents are responsible for food and transportation, but the tuition scholarship is an enormous help. Your assistance with tuition makes it possible for them to receive a quality education.
In 2022, we will again award scholarships. I hope you will continue to support the scholarship fund.
Until then, the Ojung'u Memorial Fund's next focus is to raise money to purchase textbooks for the upper classes. We will give remembrance to Ojung'u inside each textbook.