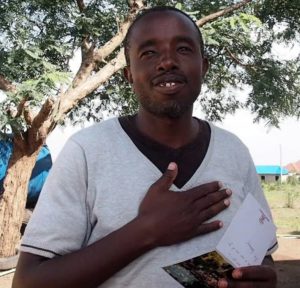 Ojung'u Samwel Mollel, age 42, our school's founding father, passed away September 13 after fighting a 6-month battle with acute leukemia. Just six hours before his death, he told his doctor, "God bless you, go home, take care of your family. I am cleansed and will go home tomorrow." He will be remembered as a humble, kind, and wise man. He will be greatly missed by his wife, 5 children, and all his family and friends.
For years Ojung'u dreamed of building a school on his farmland where children could receive a quality education and have a better chance at life. Because of your support for Heart To Care Tanzania, Ojung'u's dream became a reality. To honor him – and – keep his dream alive, we have established the Ojung'u Memorial Scholarship Fund. Each January, at the start of the new school year, we will give $200 scholarships to children who need assistance. Over the years, the gifts from this memorial will provide many children a bright future.
No amount is too small to donate to these children. Together we will raise a new generation of educated children.
A donation to the Ojung'u Memorial Scholarship makes a wonderful and meaningful Christmas gift. If you would like to provide that gift, Heart to Care Tanzania will provide you with a gift receipt to commemorate your donation, along with a package of photo cards, handmade by Bethany.
Just a few photos of the beautiful children at our school. They are so happy to be at school and receiving a quality education, but many of them cannot pay the entire school fee. That is where you can help. Thank you!