A nice article about the school was written by one of our local newspaper journalists, Vonny Rohloff. You can see the article at this link: "Roseville woman plants flower that blooms into a school in Africa"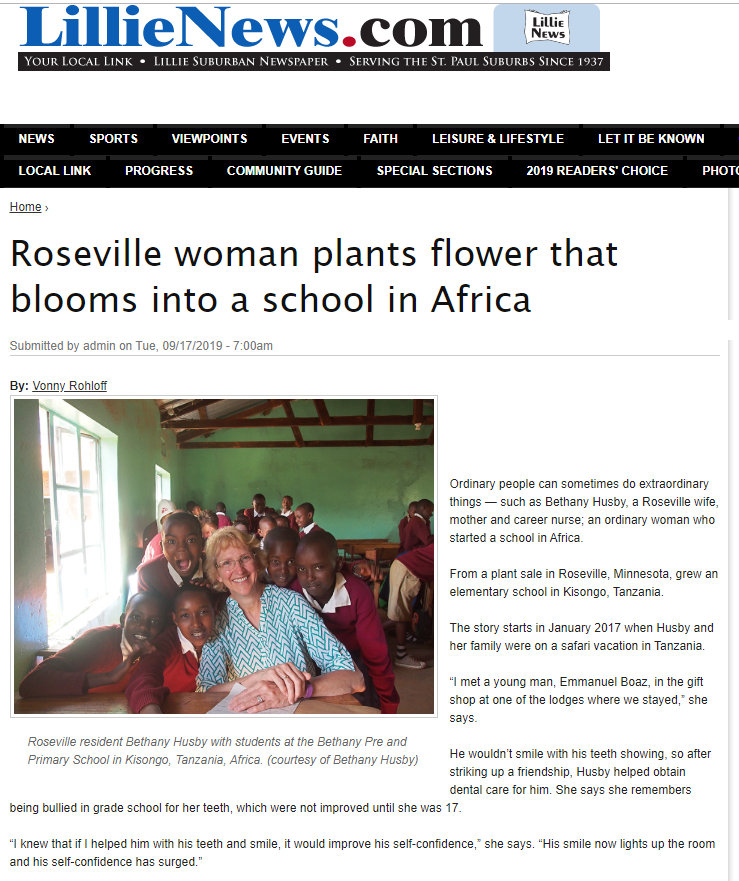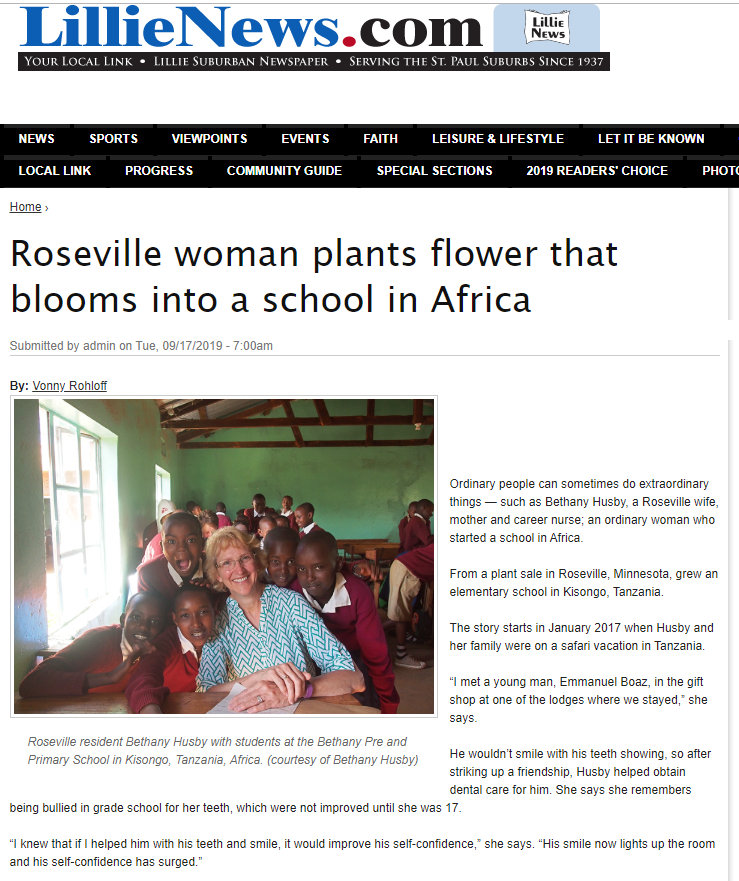 The mission to build this school grew out of my casual meeting of a young man, Emmanuel Boaz, in a gift shop while on vacation in Tanzania in January 2017. Click on the video below to learn more. An amazing story with an even more amazing result, Bethany Pre & Primary School, one year later!
In January 2017, while on an Overseas Adventure Travel vacation, I met Emmanuel, who was working in a gift shop at the Ngorongoro Farm Valley Lodge in Karatu, Tanzania. I only needed to buy a postcard stamp, but we ended up talking for 45 minutes. I could see there was something special about him. He told me about how he was almost done with training to become a safari guide, but he put that on hold when he came upon this job at the gift shop that allows him to send money home to help pay for his younger brother's education. Emmanuel was so friendly and engaging, but he covered his mouth when talking and he would not smile with his teeth showing. There were yellowish areas on his teeth, and I could tell he was self conscious about how they looked. I later discovered that, like many Tanzanian people, his teeth were affected by fluorosis at a young age, causing the pitting and yellowing; at age 25, he had never been to a dentist. I decided I had to help him get his smile back. I had faced issues with my own teeth growing up, so I knew exactly how he felt.
I had his story checked by our safari guide, Ishmail Mshana. He personally became involved in assisting me. Two months later, I found a dentist in Arusha at the dental clinic Divinegrace. Dr. Arlene was indeed divine grace. Emanuel needed a root canal, 2 crowns and 6 veneers, but now his smile is big and bright!
I still wanted to help Emmanuel finish his safari guide training, but instead he asked if I could help his dad with the education of his youngest brother, Daudi. I wanted to say no, as I really wanted to help Emmanuel, but then felt that if I helped his brother, I was in a sense helping him. So I said yes, and his 4th grade brother, who Emmanuel describes as "clever," is enrolled in a private English speaking school that is giving him a quality education. Our charity will not be drawing any funds for Daudi's education. That is our family's personal sponsorship responsibility.
As I learned more about Emmanuel and his family, he told me of his brother-in-law, Ojwang, who inherited land from his family in their village. He has always had a dream to build a school or orphanage on that land. At first I thought this was more than I wanted to help with, but then Emmanuel's dentist, Arlene, heard about Ojwang's dream, and she wanted to help. So I decided I would help too! I had a fund raising plant sale in May of 2017, with all proceeds going towards the start of the school. I had a wonderful outpouring of support. Between the plant sale, and a music concert two months later, we were able to send $19,000 to start construction on the first school building, and washrooms. We have since received additional financial support that has allowed us to buy a school bus, and nearly complete the second school building that will accommodate the additional grades in the coming years. The first school building opened its doors on January 8th, 2018, with three classes: nursery, kindergarten and first grade, 47 children in all. We are now working on the Kitchen & Community Center building. I had a 2018 plant sale and we raised $20,551 that will finish the second school building and build the kitchen, which will be inside the Community Center. More money is needed to complete this project.
I believe this school mission is meant to be! Pieces keep falling into place. I did not ask for this project, and at times I feel, as the expression goes, "I'm not driving the bus," but I was called by God to help these children. I love children, being a pediatric nurse in bone marrow transplant for 32 years now. I love seeing children be happy, healthy, and gain a quality education, and that is what I am seeing at Bethany Pre and Primary School. I also believe God's hand is in this project, and will continue to be with us as we move forward. Your prayers and financial support are asked for as we continue to grow.
That is where you can help! 100% of donations will be used for completing the Kitchen and Community Center, along with providing scholarships to children who need assistance and supporting our outstanding teachers. Please consider helping in this worthy cause. It takes a village to raise a child, and we can do it!
To make this mission even more special, Emmanuel and his family named the school after me. I am very honored by this. I did not ask for this name, and kept suggesting he think of other names, but they decided Bethany Pre and Primary School would be the name.
Thank you for any support you can give in this mission! It will make a difference.
I would also like to thank my wonderful family. They all have taken on this project as well. My husband helped start the non-profit, helped with the plant sales, and continues to help on the business end. My oldest son, Joseph, helped create this beautiful website, and helped design our logo as well. My middle son helped with the July 2017 musical fundraiser, and my youngest son made a promotional video for the charity. This project would not be possible without my entire family.
Thank you!
Bethany Husby
If you have ANY questions or want to share any thoughts about this story, please Contact Us.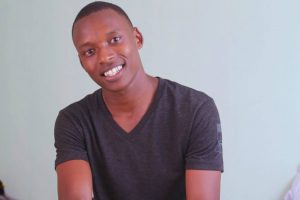 Please see the drop down: "Fundraising efforts" to see the work that was done to make this dream come to fruition. It is truly amazing!