I hope you will see the tremendous gift this is for the future of our school – one that will achieve our goal to feed our students, and in bumper years, provide additional income!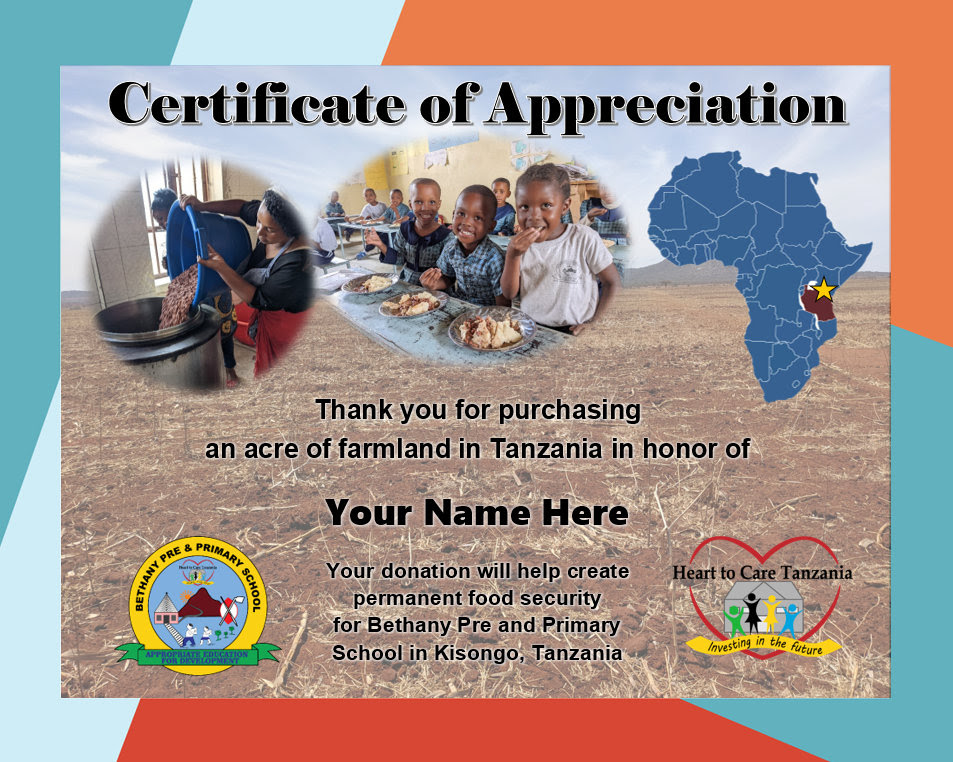 The map below shows our farmland and the driving route to get there from the school. Drag and zoom to explore!

We take no administrative fees! 100% of your donation goes directly to supporting our campaign's mission.
Want to avoid transaction fees?
Venmo to @HeartToCareTanzania (the one with the blue logo)

Write a check made out to "Heart to Care Tanzania" and mail to:
Heart to Care Tanzania
c/o Bethany Husby
1700 Ridgewood Lane South
Roseville, MN 55113
Select our charity on the PayPal Giving Fund. Donations are anonymous so please send us a message if you'd like us to know you donated or wish to earmark the money for a particular cause.
Contribute directly from your bank account. Contact us for instructions.
Give from a donor advised fund or Qualified Charitable Deduction. Our EIN # is 821342068.
Make A Stock Donation: If you wish to make a gift of stock, please check out Making a Gift of Stock to Heart To Care Tanzania.
Send your favorite crypto and Contact Us so we can thank you!

Bitcoin: 35MpfSBDnJN8qywcPMdMB9f9DYy8Y7RqW6
Ethereum: 0x4030f42C1dDa7CABe48e875d5031ca97dEDbB053
Bitcoin Cash:

qq4hat5a4ft8qtcvuwksgjck90u3drfwvuag3j6ydw

Litecoin: MX12SiebvNPz5NjmW8Nca2qqJjbtdVtF3i
Dogecoin: D6fKGXDCAZg2nG8KPqCL6B9aYphnw2TqvH
If you have any questions, please feel free to Contact Us. We want to be as transparent as possible, and welcome any questions. Thank you for your support!