The engineer recommended that we make the tank two blocks thick, at an added cost of $6,000.  We opted to take his advice, as we want this tank to last a very long time. Donations to make up the shortfall are welcomed. No dollar amount is too small. Thank you!
For updates on the progress CLICK HERE

To donate a different amount, enter the amount in the box below. Enter "water project" in the comment box.
Want to avoid transaction fees?
Write a check made out to "Heart to Care Tanzania", write in the memo line: "Water Project" and mail to:
Heart to Care Tanzania
c/o Bethany Husby
1700 Ridgewood Lane South
Roseville, MN 55113
Contribute directly from your bank account. Please send us a voided check to authorize withdrawals as a one-time or monthly gift.
Donate directly from your PayPal balance. Contact Us for the name to use, and on the PayPal site, choose "Sending to a Friend" rather than "Paying for Goods and Services". You can also use this method to transfer money from a bank account without fees.
Select our charity on the PayPal Giving Fund. Please send us a message if you'd like us to earmark the money for a particular cause.
Make A Stock Donation:
If you wish to make a gift of stock, please click here for details: Making a Gift of Stock to Heart To Care Tanzania
Important: Please Contact Us at Heart To Care Tanzania that a stock donation is forthcoming.
If you have any questions, please feel free to Contact Us. We want to be as transparent as possible, and welcome any questions. Thank you for your support!
There are no administration fees, and during this special water campaign 100% of what you give is doubled!
Details of the water tank and collection system
The tank will be round, not square like in the drawing.
The underground tank will be 20 feet in diameter by 55 feet deep with a capacity of 92,000 gallons. Completely dug by hand, the tank will be lined with bricks, cemented, covered, and filled by funneled rains.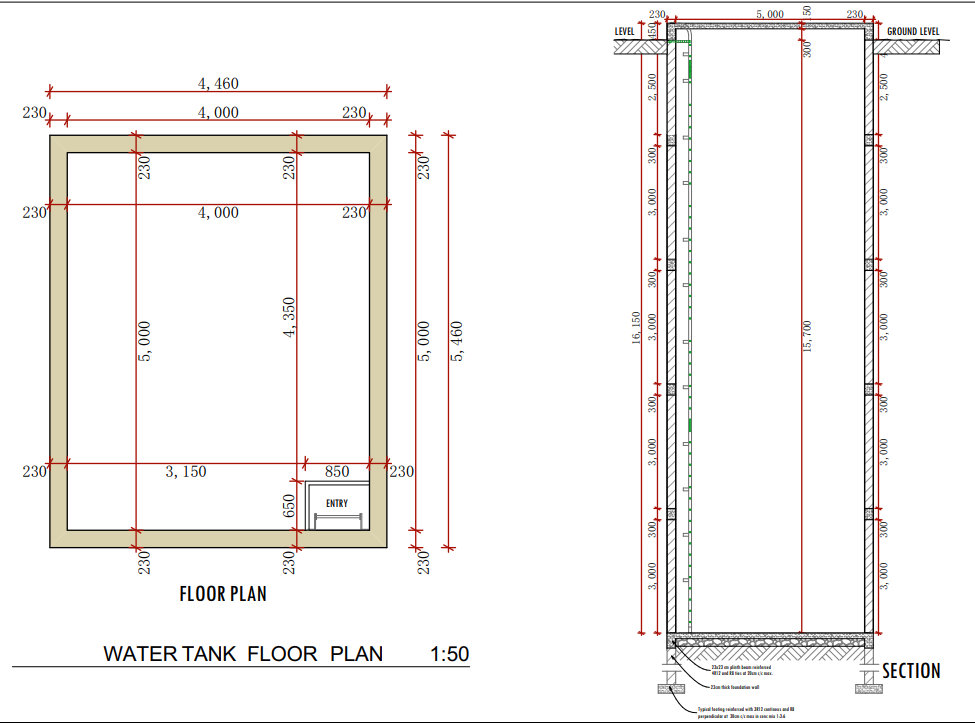 To complete the project, the collection system pipes will collect water from the roofs of two of the school buildings, and ultimately funnel the water to the underground tank.
Water Collection Specifics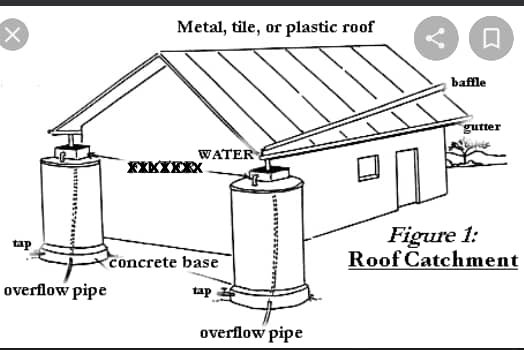 Nearly half the people in Tanzania are without access to clean water. Besides drinking water, basic hygiene practices like hand washing are critical to maintaining health, paramount during the COVID-19 pandemic. At our school, we have a limited supply. The government turns on our school's water line just twice a week for a few hours. During the dry season, our supply is inadequate for drinking, cooking, cleaning classrooms, flushing toilets, construction, watering plants, and washing hands. It has become critical that we address this need now, and secure our water future.