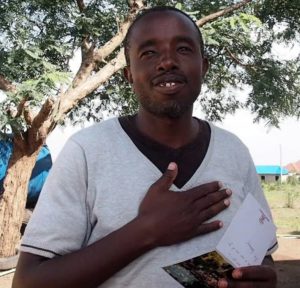 Funding is needed to provide books to 322 students in Kindergarten through grade 4 for the newly implemented Tanzanian school curriculum. The cost of books ranges from $20-$40 per student.
The books will be purchased in memory of Ojung'u, our school's founding father, who passed away September 13, 2020 after fighting a 6-month battle with acute leukemia.
The cost of this textbook drive is challenging, but I hope with donors' support, we will meet this newest challenge. We strive to keep Ojung'u's dream alive and give these deserving children a bright future!
Below is the list of books, the quantity of each (1,936 total) and the cost for each grade level.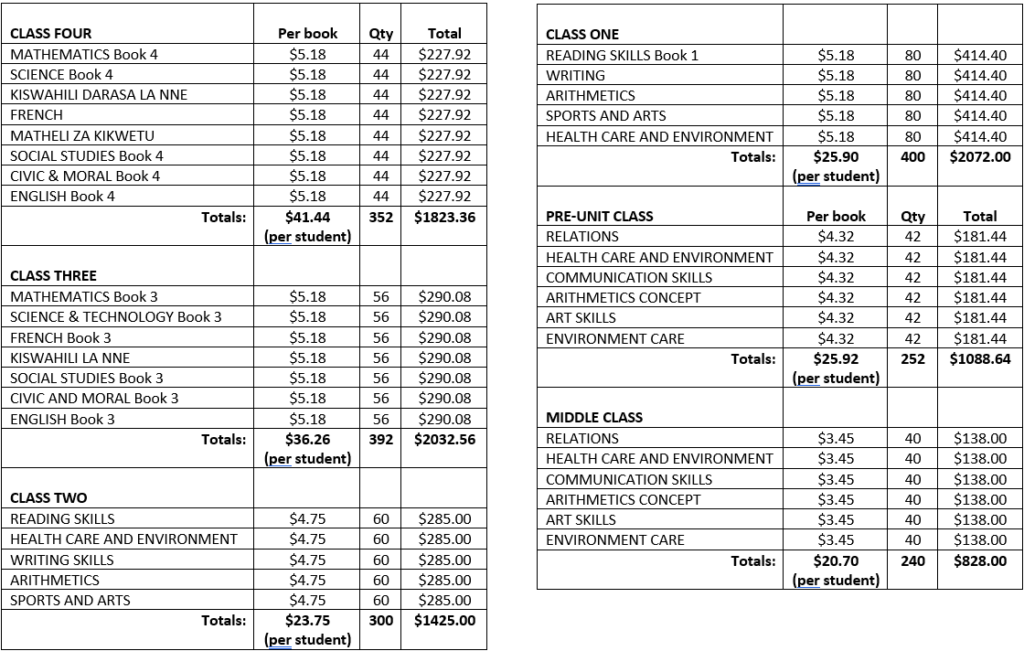 Grand total of all books needed from middle class to level four: $9269.56 USD (21,468,000 Tanzania Shillings)
If you wish to increase your donation, simply use the custom amount line and help our children achieve the best education possible!

We take no administrative fees! 100% of what you give goes directly to the children and the school. 
Want to avoid transaction fees?
Write a check made out to "Heart to Care Tanzania" and mail to:
Heart to Care Tanzania
c/o Bethany Husby
1700 Ridgewood Lane South
Roseville, MN 55113
Contribute directly from your bank account.  Contact us for instructions.
Donate directly from your PayPal balance.  Here is our PayPal profile. Make sure to choose "Sending to a Friend" rather than "Paying for Goods and Services." You can also use this method to transfer money from a bank account without fees.
Select our charity on the PayPal Giving Fund.  Donations are anonymous so please send us a message if you'd like us to know you donated or wish to earmark the money for a particular cause.
Give from a donor advised fund or Qualified Charitable Deduction. Our EIN # is 821342068.
Make A Stock Donation: If you wish to make a gift of stock, please check out Making a Gift of Stock to Heart To Care Tanzania.
Send your favorite crypto and Contact Us so we can thank you!

Bitcoin: 35MpfSBDnJN8qywcPMdMB9f9DYy8Y7RqW6
Ethereum: 0x4030f42C1dDa7CABe48e875d5031ca97dEDbB053
Bitcoin Cash:

qq4hat5a4ft8qtcvuwksgjck90u3drfwvuag3j6ydw

Litecoin: MX12SiebvNPz5NjmW8Nca2qqJjbtdVtF3i

Dogecoin: D6fKGXDCAZg2nG8KPqCL6B9aYphnw2TqvH
If you have any questions, please feel free to Contact Us. We want to be as transparent as possible, and welcome any questions. Thank you for your support!
Do you shop Amazon?
Now is the perfect time to set up a new, and continuing way to support Heart To Care Tanzania. Initially login into Amazon with the following link smile.amazon.com and bookmark the link. The next time you shop, remember to shop through the link smile.amazon.com and Amazon will donate 0.5 percent of your purchase to our charity. If you have any questions about this, please contact us. Every little bit helps and adds up. Thank you!