The following was originally posted on Grand Circle Travel's website.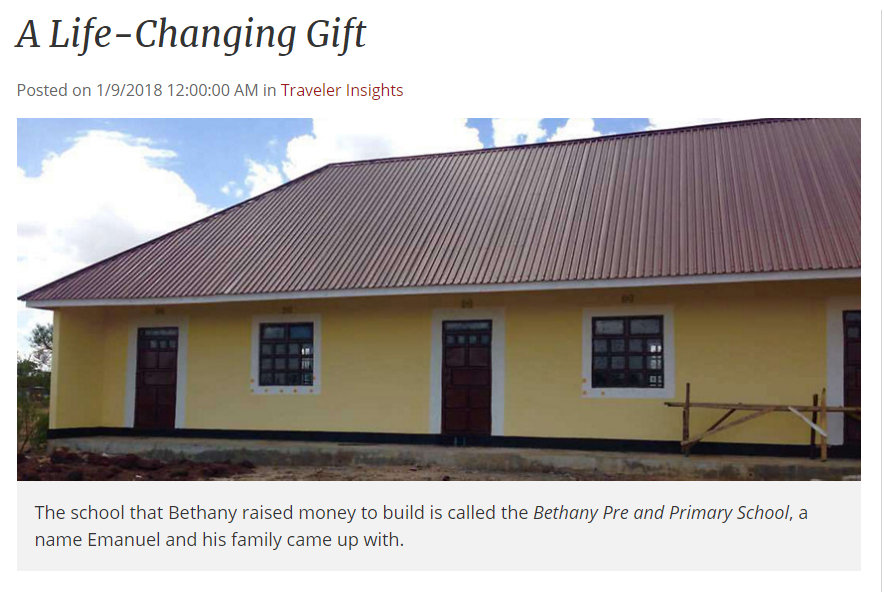 By Bethany H., first-time traveler from Roseville, MN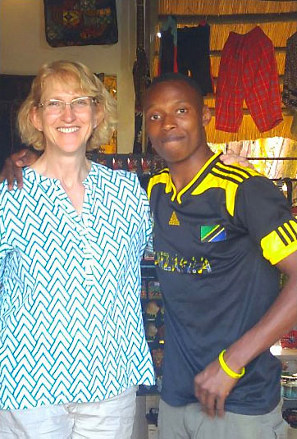 Bethany noticed that Emanuel wouldn't smile with his teeth showing when they first met.
In January 2017, while on an Overseas Adventure Travel trip, I met Emanuel, who was working in a gift shop at the Ngorongoro Farm Valley Lodge in Karatu, Tanzania. I only needed to buy a postcard stamp, but we ended up talking for 45 minutes. I could see there was something special about him. He told me about how he was almost done with training to become a safari guide, but he put that on hold when he came upon this job at the gift shop that allows him to send money home to help pay for his younger brother's education. Emanuel was so friendly and engaging, but he covered his mouth when talking and he would not smile with his teeth showing. There were yellowish areas on his teeth, and I could tell he was self-conscious about how they looked. I later discovered that, like many Tanzanian people, his teeth were affected by fluorosis at a young age, causing the pitting and yellowing; at age 25, he had never been to a dentist. I decided I had to help him get the smile he deserved. I had faced issues with my own teeth growing up, so I knew how he felt.
Two months later, I found a dentist in Arusha at the dental clinic Divinegrace. Dr. Arlene was indeed divine grace. Emanuel needed a root canal, two crowns, and six veneers, but now his smile is big and bright!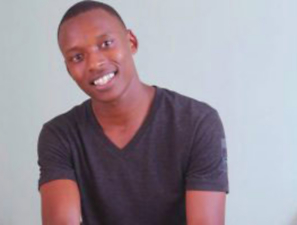 Emanuel is all smiles after his dental work.
I still wanted to help Emanuel finish his safari guide training, but instead he asked if I could help his dad with the education of his youngest brother, Daudi. I wanted to say no, as I really wanted to help Emanuel, but then felt that if I helped his brother, I was in a sense helping him. So I said yes, and his fourth grade brother, who Emanuel describes as "clever," is enrolled in a private school that is giving him a quality education.
As I learned more about Emanuel and his family, he told me of his brother-in-law, Ojwang, who has land in their village. He has always had a dream to build a school or orphanage on the land. At first I thought this was more than I wanted to help with, but then Emanuel's dentist, Arlene, heard about Ojwang's dream and she wanted to help. So I decided I would help too! I had a fundraising plant sale in May, with all proceeds going towards the start of the school. I had a wonderful outpouring of support. We have enough money for the first school building, washroom, and lunch room. There will be two more buildings built, though, to accommodate all 1-7 grades. Therefore more money is needed, but I believe it is meant to be! Pieces keep falling into place. I feel that I did not ask for this project, or as the expression goes, "I'm not driving the bus," but I was called by God to help these children. I love children, being a pediatric nurse in bone marrow transplant for 31 years now, and seeing them gain a quality education early in life is priceless. I also believe God's hand is in this project, and will continue to be with us as we move forward.
To make this mission even more special, Emanuel and his family want to name the school after me. I am very honored by this. I did not ask for this name, and kept suggesting he think of other names, but they decided Bethany Pre and Primary School would be the name.
Everything about the trip was perfect, including our tour guide, Ishmail Mshana. When I decided I wanted to sponsor Emanuel from the gift shop, Ish was incredibly helpful. Without his help, I likely would not have gone forward with helping Emanuel, because I would not have known his story. Ish miraculously knew Emanuel's uncle, and confirmed that he was a good kid from a poor family. I truly believe this all was meant to be. Ish was kind enough to let me deposit money into his bank account, and then Ish went to purchase Emanuel's computer, and take money to the dentist office as down payment on Emanuel's dental care. Ish took time out of his day, between trips, to do this for me. I understand Ish has now moved up in the O.A.T. corporation, and justly, he should. He was recently at a training seminar in Boston! This was his first time to the United States! You have such wonderful staff in your organization! They truly go above and beyond to make every guest have the most amazing experience!
Thank you for any support you can give in this mission! It will make a difference. If you are interested in donating, visit my website here: www.HeartToCareTanzania.org