The following story by Richard Reeve appeared on KSTP Channel 5 News on May 11, 2022.
Bethany Husby may just be the ultimate plant lady.
"I'm a gardener, I love gardening," she declares. "They just spring to life, and I'm just very good, I guess, at doing the garden."
From her Roseville backyard to several rooms in her house, Husby has nurtured 6,000 potted plants in all — even in the dining room.
"These are plants that will be coming outside, holding them here to make room," she says, walking through her solarium.
In the dining room, plants covered a large table.
"I grew all these upstairs," Husby smiles.
Her husband Paul says she's not kidding.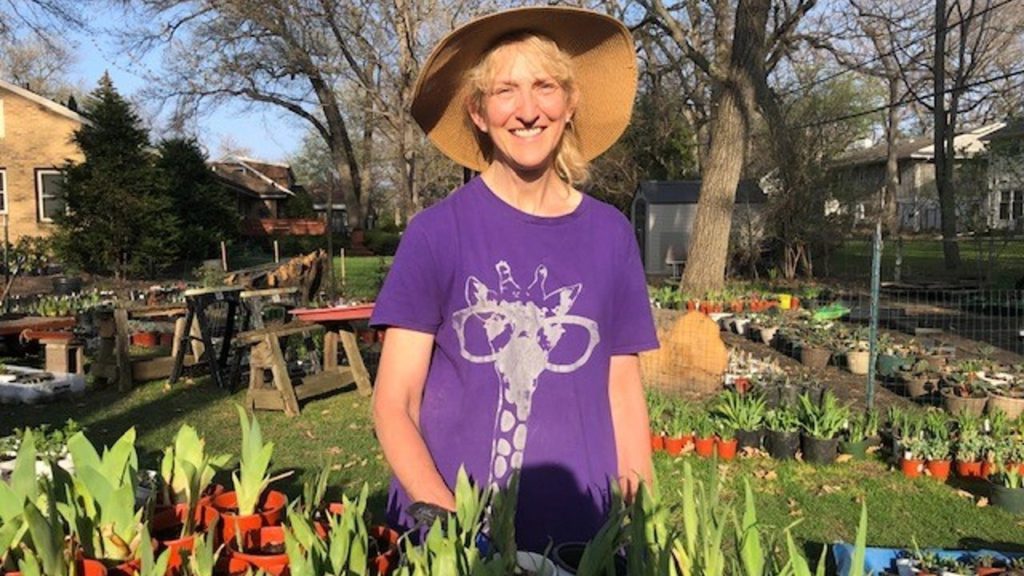 "Growing inside, grew a lot of things from seeds. Vegetables, tomatoes, herbs," he explains. "In the basement, in the solarium, in the upstairs. All over the place."
All this greenery is for a good cause that started five years ago.
"I needed to raise money to continue to raise money for our charity," Husby says.
That charity began with a family vacation trip to Tanzania in 2017, where the Husbys met Emanuel Boaz working behind the counter of a shop selling postcards.
"He told me about his brother-in-law who had a dream to have a school on the land that he inherited from his father," Husby recalls. "He wanted to make good and do something really powerful for the community."
Months later, the couple started a nonprofit, Heart to Care Tanzania. The idea was to build a school in the small village of Kisongo, along Africa's east coast.
"It started out, we were going to raise $20,000 to build this little school, and that sounds OK, we can handle that," Paul Husby remembers. "And then one thing led to another and the plans got a little bigger, and a little bigger."
So the couple began going green, right in their backyard.
In May 2017, they launched what would become an annual two-week plant sale, raising $16,000 the first year.
The most recent sale, Husby says, generated $49,000.
"One hundred percent of the proceeds finance the school, building things," she notes. "Sometimes I have to supply money to pay the teachers' salaries because the children's families often can't afford to pay. I have 110 children sponsored by people here in the community and across the country. That helps out a lot."
In January 2018, the doors opened for 32 students in a four-room schoolhouse.
That project has expanded into a campus that includes 12 classrooms, a computer lab, a library and a community center.
385 children currently attend classes at the facility, from pre-K to fifth grade.
"I believe Bethany came as an angel to support my community," exclaims Boaz, now the CEO of the school. "It's a blessing for the community because we have no school close to here, so it's good for the kids to go to the school and get an education, so they can get a future life."
He says some children in the Kisongo area — some as young as 7 — still have to walk several miles to get to school.
Boaz says he hopes more classrooms and schools can be built.
"We have kids who have dreams to be maybe a doctor, to be an engineer, where they can get this education to complete their dreams, it is at the school," he says. "The primary school where they can get their education, and then according to their dreams."
Husby, an M Health Fairview pediatric nurse, says she hopes the plant sale this year will raise $50,000 or more — enough money to help finish work on a four-story school building.
The event starts Saturday from 9 a.m. to 8 p.m. and runs through May 29.
It will be held at the Husbys' house, 1700 Ridgewood Lane S. in Roseville.
Meanwhile, community members in Kisongo have named the school campus after her, calling it the Bethany Pre- and Primary School.
"I love the children, they're near and dear to me," Husby says. "I'm always a person who likes to help people, and it's not about me. The school's not about me, the charity isn't about me. It's all just really to help, because we're only here for a short time, and I think it's important to always be doing good."