By Karen Pilarski — Waukesha Freeman
kpilarski@conleynet.com
262-513-2657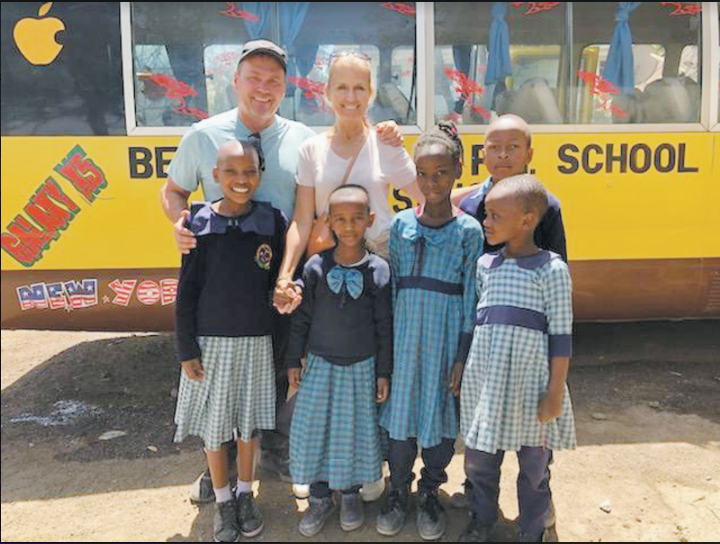 WAUKESHA — Ted and Pam Larsen, owners and operators of Church and Chapel Funeral Service, have been serving Brookfield, West Allis, Waukesha, Milwaukee, New Berlin and Cudahy area families for years.
The couple felt inspired to help out an international cause after a plant donation.
Bethany Husby of Minnesota launched the idea of a school after a safari trip to Tanzania in 2017. While looking for postage stamps she stopped at a store and spoke with a clerk about goodwill and Tanzania. The clerk mentioned the intention of building a school, according to Ted Larsen.
Husby was holding a plant fundraiser and ended up traveling to the Larsens' home to pick up plants. The ladies got to talking over coffee about the school.
"I just loved the idea and it was like something I was searching for at that time to get involved in," Pam Larsen said.
Heart To Care Tanzania is a "USA-based nonprofit dedicated to building and sustaining Bethany Pre and Primary School for children in need in Kisongo, a small village in Tanzania. We believe that quality education will equip the next generation with the skills needed to take on the challenges of the future. The charity helps an entire village," according to the website.
The Larsen family donated money towards the mission to help fund the school. It started out with 32 students and in five years has grown to 455 students. The school goes up to sixth grade with plans to go up to eighth grade.
"They are also trying to create a boarding school. These students would stay overnight," Ted said.
The opportunity to help has meant a lot to the couple. Ted said it is different from seeing it on paper to see it live in person.
"You really count your blessings that we live in such a fantastic country where we have all this freedom and luxury. When you visit these people that live in this region of the world … They start their day by walking quite a great distance to bring back a jug of water," Ted Larsen said.
Pam Larsen added helping with the school has been a dream come true for her.
"It has been so wonderful working with Bethany. When we were able to go out there after five years and meet the children … it's a whole other ball game. You want to do whatever it takes to help these kids.
The regular schools out there don't teach English. We got to go into the classrooms and watch them read and speak great English and spell.
It was just amazing," she said.
Pam Larsen has also helped local causes such as the Hope Center for over 10 years.
"We believe God gives, and we are to give. That should be everyone's purpose. It is why we are on this earth," she said.
For more information on the school visit www.HeartToCareTanzania.org.