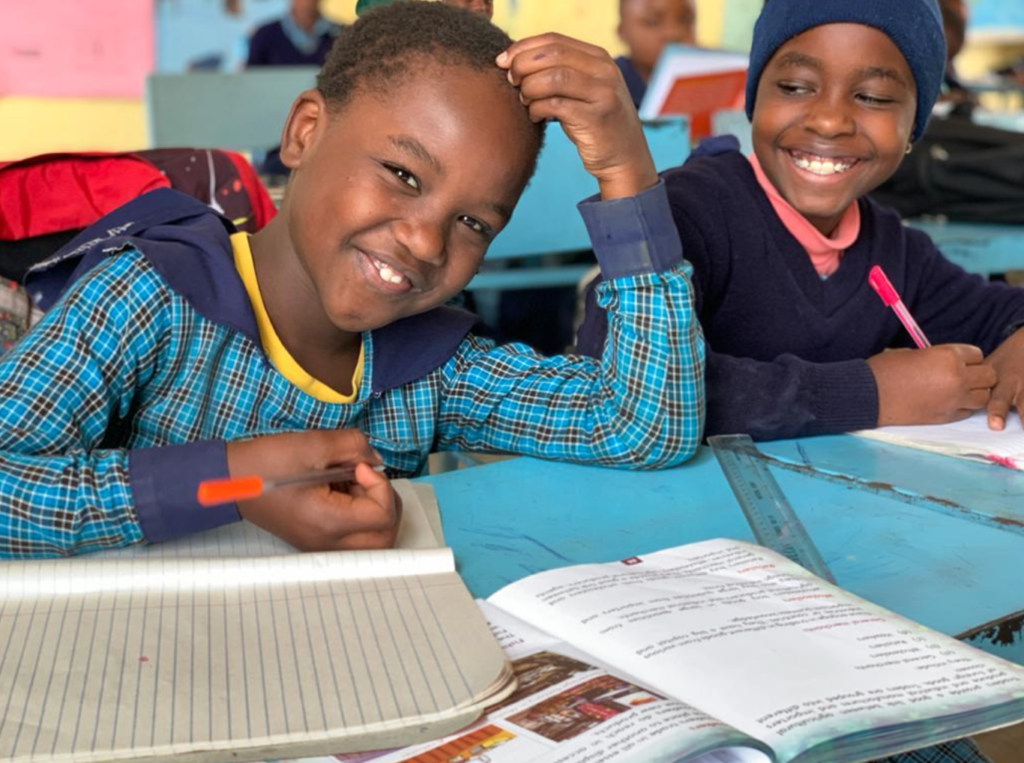 What's on your bucket list? Your list of adventures, projects, or experiences you dream of making happen someday when you have the time, the money… or the right opportunity?
For Bethany — a pediatric nurse, gardener, and mother of three from Minnesota — going on a safari had been on her bucket list for years. The opportunity finally came when her sister-in-law Jean gave her the gift of a lifetime: a trip to Africa for her and her family.
In January 2017, Bethany, her husband Paul, and their three sons arrived in northern Tanzania to begin their two-week Serengeti safari adventure.
Little did they know that this trip would turn into so much more than a safari — and change their lives forever.
It Started With a Smile
Emmanuel Boaz worked as a sales clerk in the gift shop at the lodge. Bethany first met him when purchasing a stamp for a postcard to send to her dad.
The first thing she noticed about Emmanuel was his engaging personality and how helpful he was to the customers in the gift shop. His warm, friendly nature made you feel at home, even if you were thousands of miles away. 
But you could tell there was something he was holding back.
Emmanuel wouldn't show his teeth when he smiled. He'd often cover his mouth with his hands when he talked or laughed, to hide the yellow discolorations. 
Bethany sensed his self-consciousness, and she could relate. She had been bullied in grade school for her less-than-perfect smile. It wasn't until she was 17 that she was able to improve her teeth with dental work.
In a funny kind of way, their shared experience with dental problems created an immediate bond.
Throughout the course of the trip, Bethany continued to learn more about Emmanuel and his family, and one of the items on his bucket list: to become a safari guide. 
However, he put that dream on hold when he came across the job at the gift shop. The reason? It allowed him to send money to help support the education of his four brothers.
Emmanuel's family didn't have a lot of money, but they supported each other the best they could.  
After sending most of his monthly $100 paycheck to help support his family each month, and his siblings' education, there was little left over for himself.
A Trip to the Dentist
Bethany later learned more about his smile. Dental fluorosis is a common condition in Tanzania due to naturally occurring high levels of fluoride in local drinking water. It was the cause of the yellow discoloration. He also had pain in one of his teeth.
At the age of 25, he had never been to a dentist. Emmanuel wanted to improve his teeth, but the cost of a dentist was something he'd never been able to afford. 
Bethany remembered what a big difference improving her teeth had made in her confidence and well-being. She knew it would for Emmanuel too, so she helped him find a trusted dentist.
Dr. Arlene at Divinegrace Dental Clinic in Arusha helped Emmanuel get his smile back. He needed a root canal, two crowns, and six veneers.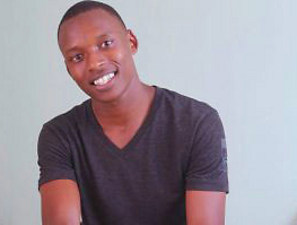 Today, Emmanuel can't stop smiling and no longer covers up his teeth. His confidence has improved and his smile now lights up an entire room.
But that's not the end of the story.
The friendship shared by Emmanuel and Bethany, their families, and Dr. Arlene was about to turn into something much bigger. An opportunity for a greater purpose that would affect many lives and generations to come. 
The Power of Education
After the safari trip, and after the dental work, the conversations continued.
Bethany and Emmanuel exchanged countless emails. They learned more about each other's interests, families, culture, and traditions.
Bethany and Emmanuel realized they had something else in common, more than their past dental problems:
They both hold deep value for education and putting others before themselves.
Education has always been important to Bethany. Growing up, she struggled with a form of dyslexia — something she didn't realize until she was an adult. As a child, reading didn't come easily and she always had to study so hard — but she didn't know why at the time.
Thankfully, her teachers were always patient and encouraging. They made sure she had the tools she needed to succeed, no matter how much time or effort it took.
Because of caring teachers and much hard work, Bethany graduated with higher honors. She later went on to nursing school. That education allowed her to follow her calling for the next 35+ years: to serve as a pediatric bone marrow transplant nurse at a local children's hospital. And she doesn't plan to stop anytime soon.
A Dream for a School
Like Bethany, Emmanuel cares deeply about education — a value he also shares with his family. In fact, Emmanuel's brother-in-law, Ojung'u Samwel Mollel aspired to one day build a school.
Their family has experienced a great deal of financial hardship. Like many Tanzanian families who live near the world poverty line, quality education wasn't always possible and they struggled to get by. When he was a boy, Emmanuel often did not eat before school because they didn't have enough food. He and his brothers were even sent home from school for not being able to pay the small amount of money the government schools required.
They didn't have a lot of money, but they did have some land. Ojung'u had inherited a piece of land from his father, located in Kisongo, a small village on the outskirts of Arusha, Tanzania.
It was the perfect location for a school.
Ojung'u had a dream: to build a school in Kisongo that would provide top-quality, accessible education for local children, no matter their background or circumstances.
A Garden and a School Bloom
The idea for a school — a seed for the dream — was planted.
Other seeds were planted too, across the globe in a garden in Roseville, Minnesota.
Bethany, who also has a passion for gardening, organized a large plant sale to raise funds for the school. She divided and repotted thousands of plants from her award-winning backyard garden. With help from her family and friends, the sale raised over $16,000.
The proceeds from the plant sale helped fund the groundbreaking of Bethany Pre & Primary English Medium School in Kisongo, Tanzania.
By January 2018, the doors opened to 32 students. Fundraising continued, and the school kept growing. A school bus was purchased, another school building was built, and by 2019 enrollment increased to 156 children.
Today, Bethany Pre & Primary School has 384 children enrolled in Kindergarten through grade 5 and employs 46 staff members, including 18 teachers.
It Takes a Village To Raise a Child
With the support of family, friends, villagers, and donors who helped make the school a reality, Bethany Pre & Primary School is bringing Ojung'u's dream to life: to empower children to reach their highest potential.
Here's how Bethany Pre & Primary School is doing just that:
Children receive a well-rounded education — All subjects including core reading, writing, and math classes are taught and tested in English to ensure students are fully prepared for secondary school. A new computer lab and library provide students and teachers with up-to-date technology and resources to learn and grow. Creativity is valued and built into the day — each school day starts by singing together!
Teachers are highly-qualified — All teachers at Bethany Pre & Primary School are certified and attend ongoing professional development workshops in areas including leadership, curriculum, team building, science, and technology.
Sponsorships give hope to a child in need — No matter the circumstances or income level, Bethany Pre & Primary School offers full sponsorships to students who need them, thanks to generous support from donors.
The nonprofit organization Heart to Care Tanzania was founded in 2017 to help build Bethany Pre & Primary School — and to sustain the school for many years to come.
We believe that all children deserve a quality education. Your support can help empower children to achieve their full potential through a high-quality, safe, and caring educational environment.
Here's How You Can Help:
Sponsor a kid — A monthly gift of just $34 — or a one-time gift of $400 — provides annual tuition, meals including morning porridge and lunch, and transportation for a child in need.
Help finish construction — Support one of the school's biggest needs in 2022: funding to complete the final three floors of the last school building. Currently, every classroom is filled, some over capacity. The new four-story building will reduce class sizes and allow the school to expand to grade 7.
Purchase a textbook — Funding is needed to provide books to 322 students in Kindergarten through grade 4 for the newly implemented Tanzanian school curriculum. The cost of books ranges from $20 to $40 per student.
Attend the 2022 Plant Sale — All proceeds from the next plant sale in May 2022 will go directly toward Heart to Care Tanzania to fund the school. Expect an amazing and huge variety of beautiful annuals, perennials, and herbs. Stay tuned for more information at HeartToCareTanzania.org.
Go on a safari! — Join Emmanuel for an unforgettable experience with Boaz Safari Adventures. A portion of safari proceeds goes directly to Heart to Care Tanzania to support Bethany Pre & Primary School. After the safari, spend a day at the school visiting the children, joining in during morning singing, serving porridge, or helping with lunch. Learn more at BoazSafariAdventures.com.
Your support in any way or any amount will make an impact. Thank you for caring and supporting quality education for all children, no matter their circumstances.
---